Loving Our Neighbors
If you're looking for a church that loves to give, you're at the right place! God has provided many opportunities in the past and present for our church family to share God's goodness in a variety of ways, most importantly through sharing the Gospel. These are just a few ways we give back a part of what He's so graciously given to us:
Friday Lunch Outreach--every Friday the town of Fanning Springs hopes the wind blows in their direction from Joppa Baptist Church. That's because the Master Chef of Chiefland, Sis. Charlotte Hathcox, and her wonderful assistants are creating culinary delights to be shared with many dear folks who are shut-in or in need of a home-cooked meal. Several of our fabulous fellas deliver these meals with a word of encouragement. God has used this ministry to bless many people, including the ones who work so hard in it.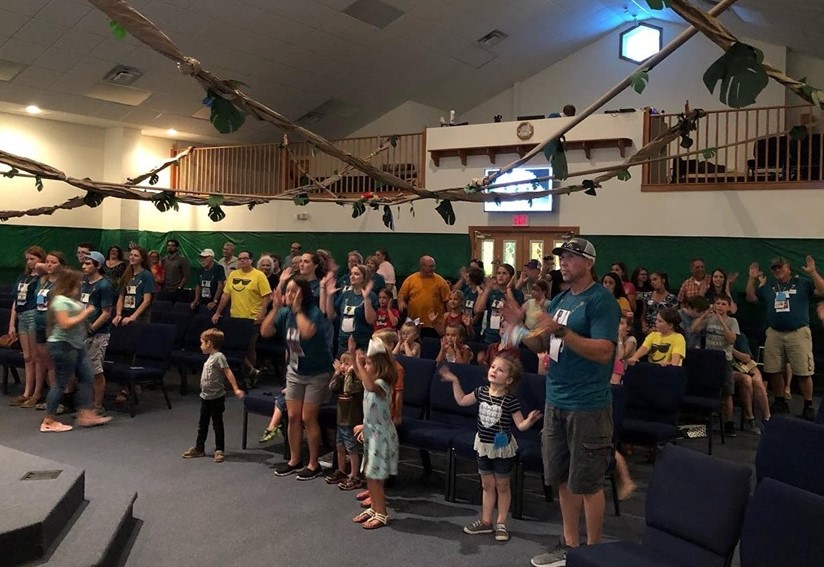 Vacation Bible School--this may seem like a given but we take VBS seriously. Much time, preparation, and prayer is spent on this week and we see the fruits of our labor. But we aren't willing to contain the joy of VBS and the people we meet to just one week so we are following up with students we don't enjoy seeing regularly at church.
Family Bible School--as a follow up to our Vacation Bible School, we will be hosting Family Bible School as a ministry to our VBS attendees and their families. On the 3rd Sunday evening of the month from 6:00--7:00 p.m., our honored guests will be treated to our ladies' amazing meals as a family and then the children will go for music and class time while the older kids and adults enjoy time in the Fellowship Hall before everyone reassembles in the Sanctuary for the children's presentation. If you have questions, you can call or email the FBS committee at joppafbs@disciples.com
Church Camps--Joppa is very unusual in her idea of "going to camp." Our youth know that camp is not just a once a summer thing. Bro. Josh usually leads a select group of kids and adults for a week of "camp" away from home to do service projects and assist a church in need. The last couple summers they've been a blessing to a church in Key West that was destroyed by hurricane. The other camp of the summer is either a "Stay At Home Camp", using our church facilities and the young people's talents and hard work to do some improvements around the church or at a local ministry/project or away at a facility such as Camp Anderson. Either way, the group has an exhausting but exhilarating time!
Men's Brotherhood--the men of our church are talented and skilled in many areas and the Lord has used those abilities to assist others. Don't be surprised if you hear an announcement from the pulpit stating that "this weekend we're going to So-and-So's house to fix the roof" or "the septic system" or "to build a wheelchair ramp." With a pastor whose background is in construction, you can bet God is meeting physical needs in a glorious way!